Run to your heart's content in Palma
In the mountains or by the sea, either is a (very) good choice
Whether you take a more urban or a wilder route, by the sea or through a green landscape, on your own or with others, running in Palma is always a pleasure. And we mean always, because the weather invites you to get your legs moving at any time of the year. This is another advantage of the Mediterranean climate and a perfect excuse to work up a good sweat.
As ever when you go running, the route is up to you, and that is always part of the charm. But to help you awaken your senses, here are 4 particularly inspiring routes around Palma...
Cross Parc


This is an ideal route for a run on a flat dirt track in Palma. The route spans 9.5 kilometres, going around Parc Bit through Son Espanyol and the Son Mayol estate, ending at the UIB campus. A highly recommendable route for a good run or quality training session. Note: in the summer, due to the high temperatures and lack of shade, it is very important to stay hydrated and to avoid the hottest hours of the day.
More information Cross Parc
Parc de Bellver


 If trail running is your thing (or you want to give it a go), this is the perfect route because it puts you in the heart of nature in Palma, in the city's green lung: Bellver forest. Plus, the route has an unbeatable finish line: Bellver Castle, circular in shape and, therefore, one of the most unique castles in the world. It is an uncomplicated route, ideal for training... or for getting inspired.
More information Parc de Bellver
Passeig Marítim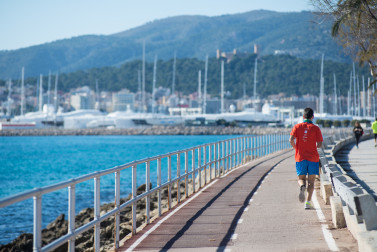 This route is very urban and very Mediterranean as it takes you along the coastline of Palma and it is easily accessible from the old quarter. This means it is an ideal place to stretch your legs and enjoy the breeze and the views. The most popular route —and the one closest to the city centre— is the one that joins Porto Pi and the fishing neighbourhood of Portixol.
Bay of Palma

The second largest bay in Spain is also an ideal place to run. It spans 20 kilometres of waterfront, so you can do a specific stretch of it  if you prefer. One highly recommended route is the one that links Club Nàutic Cala Gamba and Club Nàutic S'Arenal, passing through Es Carnatge nature reserve, Can Pastilla and Palma Aquarium.
Discover the island, too
As well as these routes through the municipality of Palma, remember that Palma is the ideal base of operations for running routes around the rest of the island, such as the Puig de Sant Miquel circuit, the route from Coll de sa Gramola to La Trapa or the route through Finca de Galatzó, Molla de s'Esclop and Pas des Cossis, in the Serra de Tramuntana mountain range, among others.
Do you prefer running with a group?
If you enjoy going for a run with a group of people, in Palma you also have the option to join other people on runs organised by private organisations like Palma Runners or Running Seguro. (links to both organisations)
https://www.palmarunners.com/
https://www.runningseguro.com/servicio/grupos-running/
The Palma Marathon
And if marathons are your thing, every October in Palma we host the most important one in the Balearic Islands: the Zafiro Marathon, approved by the Royal Spanish Athletics Federation and included in the official calendar of the Association of International Marathons and Distance Races.
https://www.palmademallorcamarathon.com/